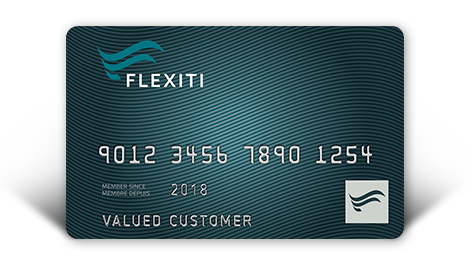 0% Interest Free Financing
0% Interest Free Financing
0% for up to 24 Months on any purchase over $500
Shop Sitewide and build your shopping cart with exactly what you want. At checkout, pick Flexiti™
Financing, go through a 3 minute application process and get approved for 0% financing on your entire
order* Scroll Down for answers to Frequently Asked Questions.  

** Based on OAC. Certain Terms and conditions apply. Must be 18 or older to apply.
Answers to Frequently Asked Questions
---
GETTING APPROVED FOR FINANCING
How do I apply for financing? 
There are two ways to apply for Flexiti™ financing. You can get pre-approved and then start shopping when you know your approval amount. You can also apply for Flexiti™ financing at checkout once you are ready to pay for your order. The application process takes about 3 minutes and you will find out immediately if you are approved.  
When can I apply for financing? 
There are two spots to apply for financing, by clicking the "APPLY NOW" button above, or by applying at checkout for financing.
How much financing can I get approved for? 
When you apply for financing you can request an amount you would like to be approved for. After your application, you will find out how much you are approved for.
What happens if I don't get approved for financing? 
You can call Flexiti™ financing directly at 1 877 259 3754 to speak with a Flexiti representative and increase your chance of success of being approved. A Flexiti representative may be able to manually override settings to get you approved.
Can I have a second chance to get approved for financing? 
If you did not get approved for financing online, do not worry. There is a better chance of success of getting approved by calling our Flexiti™ hotline at 1 877 259 3754. Once you speak with a representative, you get a second chance at approval.
What is required to apply for financing? 
You will need to be over the age of 18, have a valid form of ID and will need to fill out an application.


---
WHO IS FLEXITI™ FINANCING?
Where is Flexiti™ Financing located? 
Flexiti is a Canadian fintech company founded in 2013. Through their tech enabled solution, they offer financing options on a private label credit card that makes shopping simple for consumers and retailers. The approval process is quick, payment options are flexible, and customers can shop at any retailer in the Flexiti Network.

What retailers are offering financing with Flexiti Financing? 
There are over 5000 other retail locations offering Flexiti Financing in Canada. Click the button below to see a full list of retailers offering Flexiti Financing.

How Long has Flexiti Financing been around? 
Flexiti Financing bought out TD Financing Canada in 2013. Since then, Flexiti has grown to one of Canada's largest, most trustworthy retail financing companies.

---
Does Flexiti check my credit history?
Yes, Flexiti will conduct a credit check during the application process.


Is my personal information secure with Flexiti?

Flexiti handles your personal information with the utmost security. Click the button to view the Flexiti Privacy Policy for more information.

Are there any fees to open a Flexiti Account? 
It is free to open an account with Flexiti! An annual fee of $39.99 applies for residents of Quebec and $24.99 may apply to residents of other provinces. An administrative fee may apply on a promotional plan depending on the merchant.


How to I pay with Flexiti at Checkout? 
Visit a store within the Flexiti Network and pay with Flexiti at checkout. If you are in-store, the salesperson will provide you with information about the available plans and help you with the payment process. If you are shopping online, you can follow the on-screen instructions.


Where can I shop with Flexiti™?
You can shop anywhere in the Flexiti Network! Your FlexitiCard is accepted in-store at over 5,000 retail locations and online at select merchants. To see a full list of participating merchants, click here.


---
OTHER FINANCING QUESTIONS
The simplest way to pay is through your bank's online banking bill payment system. Simply add Flexiti (Flexiti Financial) as a payee. You can also send us a cheque to the address below – make sure you include your account number on the cheque to avoid delays. Flexiti Financial Attention: Account Services – Payment Processing P.O. Box 340, Orangeville, ON, L9W 2Z7


Will Flexiti send me billing reminders?

If you have provided a working personal email address, we will send you a notification when your statements are ready to be viewed and a reminder 5 days before each payment is due. If you have chosen to receive your statements by paper in the mail, you will not receive a reminder.

What happens if I miss a payment? 
Miss one payment? It can happen! We'll send you a notice to remind you of your missed payment, and you might also receive a phone call to remind you. If you miss any two payments in a 12-month period, you risk losing your promotional interest rate offer, and your promotional balance will be treated as a full interest-bearing credit purchase going forward. Your statement will have details about your payment amount and due date. Don't forget that even on a deferred payment plan, Payment Defender Insurance fees and paper statement fees must be paid monthly in order to keep your account in good standing. For more information about missed payments, see your Cardholder Agreement.


Are there any penalties for paying off my purchase early? 
No, there are no penalties for paying off your purchase early.


If I pay more than my Equal Monthly Payment amount, will my next month's Minimum Amount Due be reduced?

No. Equal Monthly Payments are divided up into equal portions at the time of transaction, so paying more than your Monthly Payment Amount will not reduce the next month's payment. Any payments above your Equal Monthly Payment amount will reduce the amount of your final promotional plan payment(s), meaning that you can pay off your purchase early.


Does my account close after I've paid off my purchase?

With the FlexitiCard, there is no need to reapply for financing every time you shop. It works just like a regular credit card! Your account remains open after you've paid off your balance so you can keep shopping in the Flexiti Network.


Call us:

1 (844) 478 3375 or (905) 594 1247

Email Us:

support@directbed.ca

Live Chat:

 

click the chat bubble below
---