Top 10 Great Value Mattresses You won't find at major retailers.
Are you looking for an RV Mattress? Direct Bed sells all Mattress Styles, Comforts and heights in RV size. Read our guide below to learn about how to measure for your RV and find the perfect RV mattress for your getaway.

"ARRGHHHH!!! " That's probably what you said after calling several mattress retailers who told you they don't carry rv mattress sizes. Have no fear! This guide will equip you with the knowledge you need to shop for the perfect rv mattress from Direct Bed.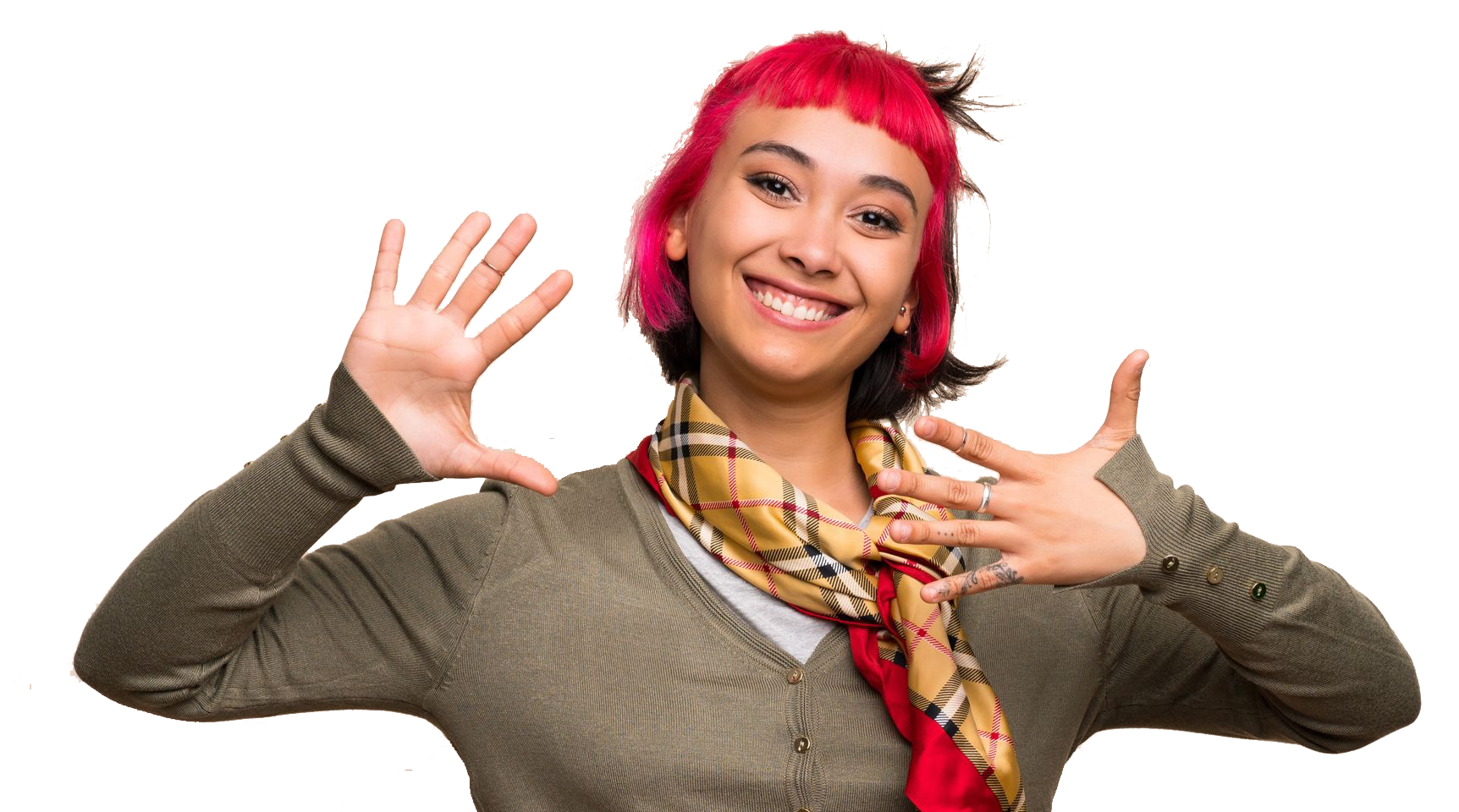 Ultimate Replacement Guide
Step 1: Determine Your Mattress Size

Here is a guide on how to measure the exact size you need in your RV.
The first step to buying a replacement RV mattress is to figure out what size you need to order. The most accurate way to do it is to measure the dimensions of the surface the mattress rests on. Usually the mattress is placed on ply-wood or some type of similar surface.

This is the most accurate way to measure an RV mattress. Your RV mattress may not be the same size as it was when the RV was built. This can be due to fluctuations in temperature during off-season storage or from exposure to UV light if the RV was kept uncovered during storage. All of our RV mattresses are custom made to order, and so was the one that came with your RV. For this reason, it is best to get an exact measurement.

Look at the diagram to measure (A) the Width (B) Length and (C) Depth. The depth is important for RV mattresses since sometimes, there are restrictions on the height of your mattress (Pop Up Trailers & Smaller Trailers) Our most common RV mattresses are Short Queen (60"w x 74"L), 3/4 (48"w x 74"L), King Short (All Sizes) and bunk single (All Sizes). If you are looking for Queen short or 3/4, we have this available right through our website in the size drop down list. For other sizes not listed, contact us directly at 1 844 475 3378 and we will personally help you set up an order. Next, you need to pick what type of mattress to go with.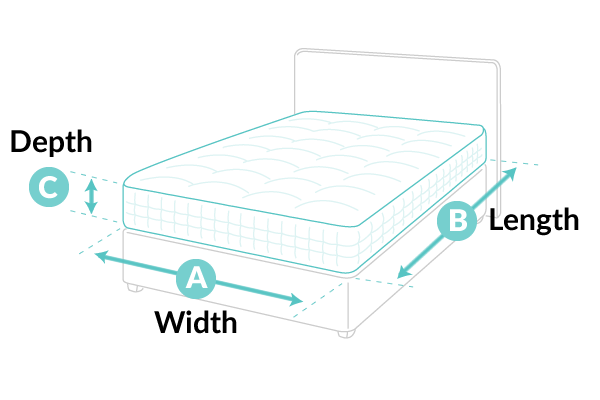 Step 2: Choose your RV Mattress Type

4 Options: (1) Basic Value Foam (2) Memory Foam (3) Pocket Coil or (4) Cooling RV Mattress
The most common RV mattress type is an all-foam mattress because of the price point. If you only use your RV a few months out of the year, this is probably your best option. Price ranges for these generally range between $200-$400

Standard foam RV mattresses are approximately 5-6 inches in thickness. The most important thing to consider is the density of the foam. Foam densities range between 1-2 lbs per cubic foot. The 1.8-2 lb densities tend to be more durable. They also can withstand more body weight and they tend to have less manufacturer defects.

Foams in the 1-1.5 lb category tend to break down quicker and they can't withstand as much body weight over a long period of time. This density range also tends to develop ruts and depressions in the mattress leaving you feeling like you're stuck in a ditch.

Another thing to ask is if the foam is 100% Petroleum based. Some suppliers offer soy based rv mattresses that are more eco-friendly. At Direct Bed, we manufacture exclusively with Soy Based Bio blend Foam. Our foam is manufactured by VPC group who uses Soy Bio Blends which are more environmentally friendly, and also better for your health!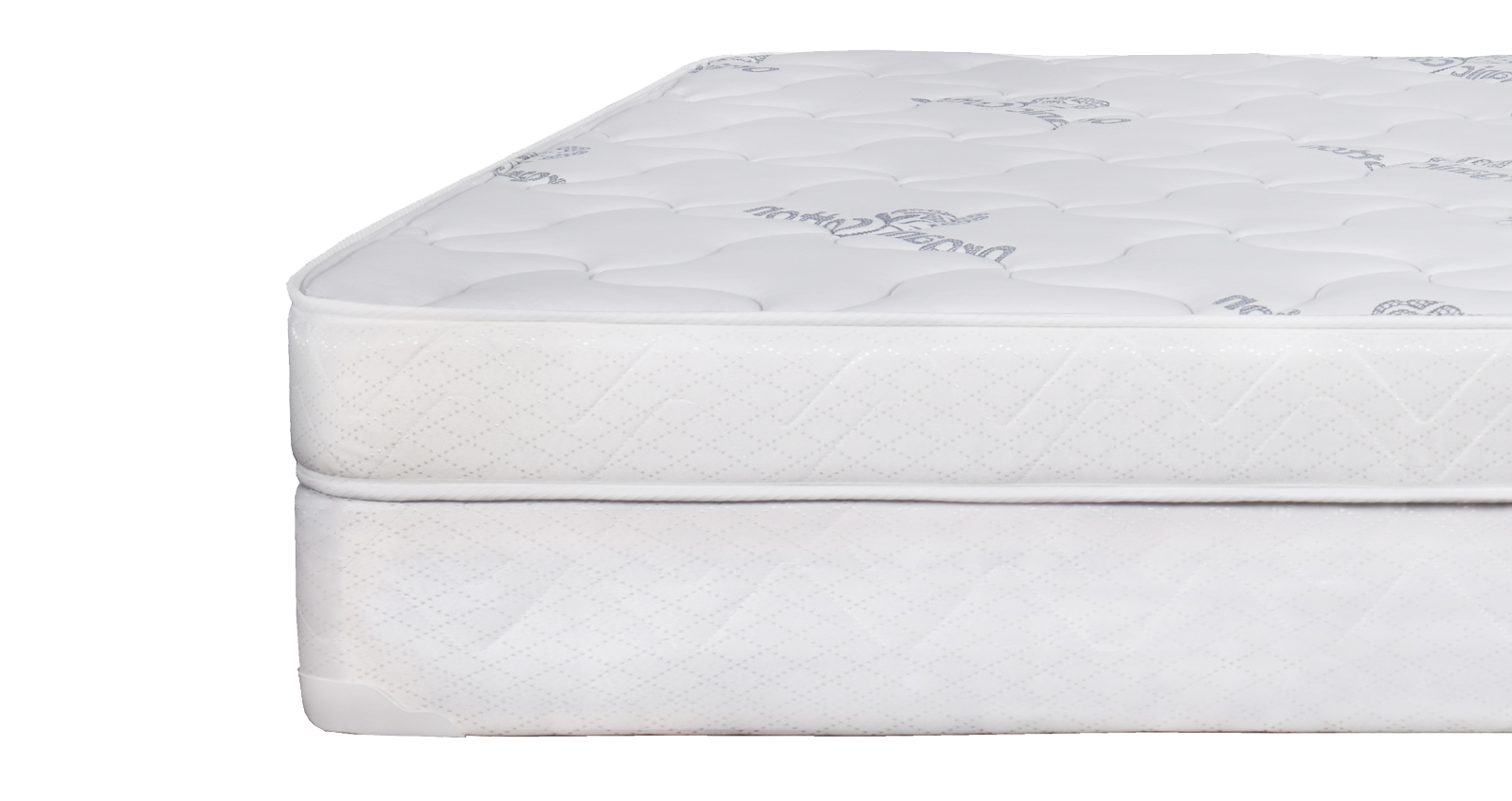 Step 3: Decide on a Premium Mattress

Is it worth it to spend a little extra and get a good sleep on your getaway?
You've probably spent a good amount of time, effort and money to book your getaway. Everything is set, but the mattress is sometimes the overlooked item. Nothing can ruin a vacation more than waking up with aches, pains and feeling tired all day. Consider the cost of investing into a good mattress on your getaway. A mattress can quickly become the one thing you really look forward to on your vacation.

Good quality, North American Made Memory Foam mattresses are a premium option. If you live out of your RV or if you want a premium RV Mattress upgrade a good quality memory foam mattress is a great option.

Our memory foam rv mattresses generally tend to be around 8″ - 14". They are usually constructed with memory foam on top and a high density soy blend bio foam base. In the foam industry, ILD (Independent Load Deflection) is the best measure of quality memory foam. When it comes to memory foam, densities are not as accurate at describing quality memory foam as ILD.

ILD is a unit of measurement and refers to the number of pounds (lbs) of pressure or force that is needed to indent foam to a depth of 4" by 25%. This test is performed on an area of 50 square inches. The rating is referred to as the ILD rating or the 25% ILD rating. As foam engineering technology is constantly improving, Direct Bed constantly sources and uses only the highest ILD memory foam currently available on the market to give you a better quality sleep.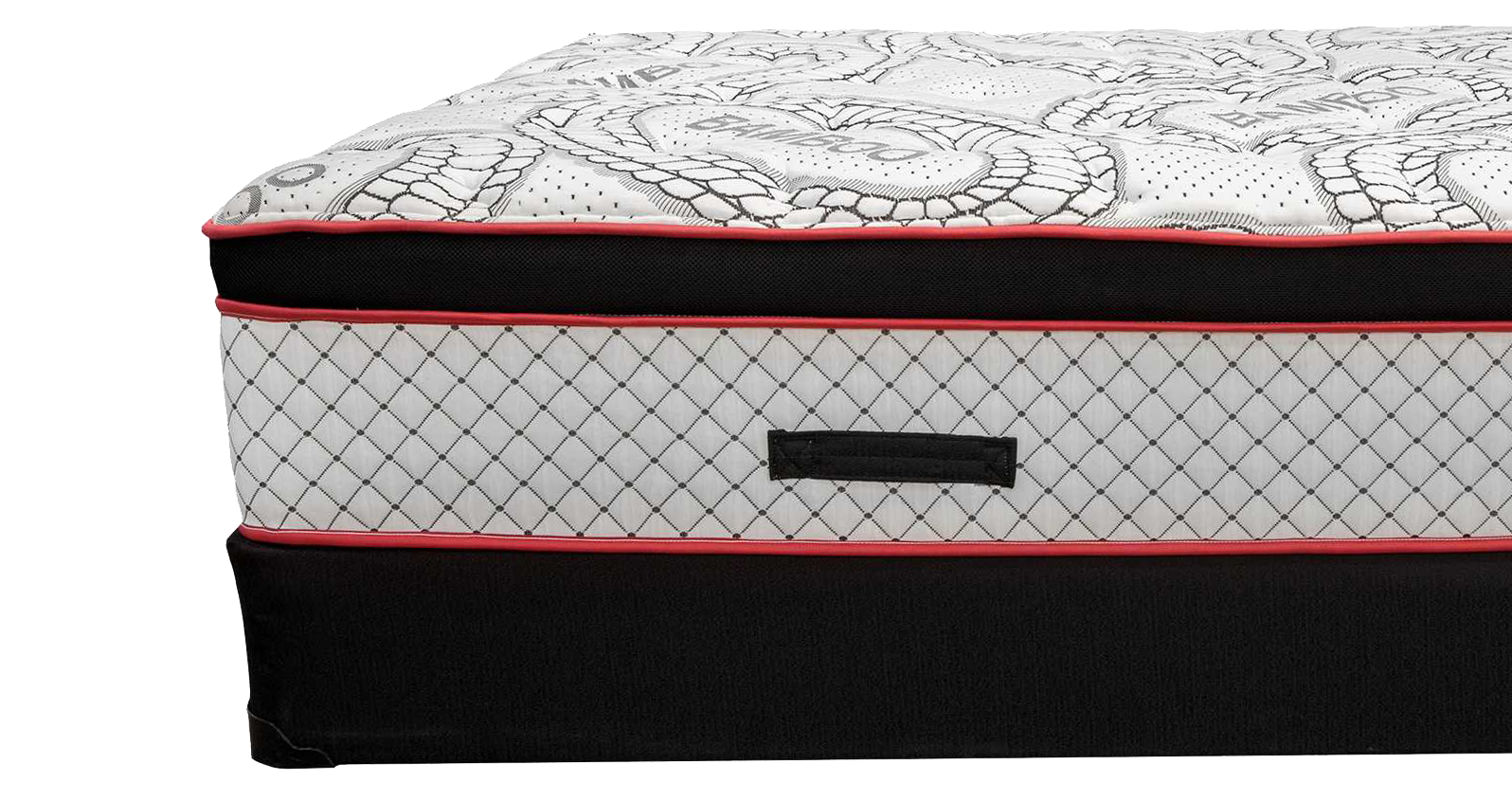 Fast Production & Free Delivery
All Bunk, 3/4 and Short Queen mattresses are in stock and ship out same day. For other custom sizes, as soon as we get your order, we put it into production same day. Production time is around 2-3 days and delivery time is another 3-8 days. We have many other RV Mattresses in stock already if you need an even faster turnaround time. Just call us at 1 844 475 3378 to check availabilty.

Pocket Coil RV Mattresses

Pocket gives support, posture, cooling and motionless sleep.
Just like Memory Foam RV Mattresses, Pocket Coil Mattresses for your RV are a great premium option or upgrade if you are not happy with your current RV Mattress. If you live in your RV, our personal recommendation is a good quality Pocket Coil RV mattress.

Pocket coil RV mattresses create breathability through the coil system, better air flow and better cooling. Combine this with some of our premium components such as cool gel, nano-coil pillow tops, latex layers, your getaway in your RV now takes on a whole new meaning when you wake up refreshed and energized.

Pocket Coil RV mattresses have pocket coil base support systems which create great posture and support as they adapt better than any other mattress type to the curves of your body. If you can remember the "bowling ball" commercial from long ago, you remember that the boiling pins stayed still while the bowling ball bounced around. That is the magic of a pocket coil mattress, truly undisturbed sleep more than any other mattress support system (including foam).

Now, you can also get  pocket coils in the pillow top (nano coils) which creates the most durable and comfortable pillow top possible. Nano Coils are available exclusively in our Royal Suite Mattress, in our Executive Collection.


Cooling RV Mattresses use special components to keep you cooler at night.
The final option for a premium RV mattress option would be RV mattresses that are built with cooling components. Most of the time, your getaway is to a hot destination and you want to make sure you stay cool. Some RVs have air conditioning, some don't but you can help the hot sleeping with a better cooling mattress.

A good cooling mattress uses multiple different components to lower the temperature of your sleeping surface and wick away body heat. The first component type is cool gel memory foam. Cool gel is a recent innovation in mattresses that increases the conductivity of the foam layer and transmits heat instead of trapping it. This helps get rid of your body heat and helps you sleep cooler.

The second way to lower the temperature of your mattress is to have better air-flow through the mattress. Pocket Coil mattresses achieve this better by having open coil spaces for air to travel through. A solid foam base will not allow for this.

A good cooling mattress will have either pocket coil or cool gel construction. The Best cooling RV mattress will have both!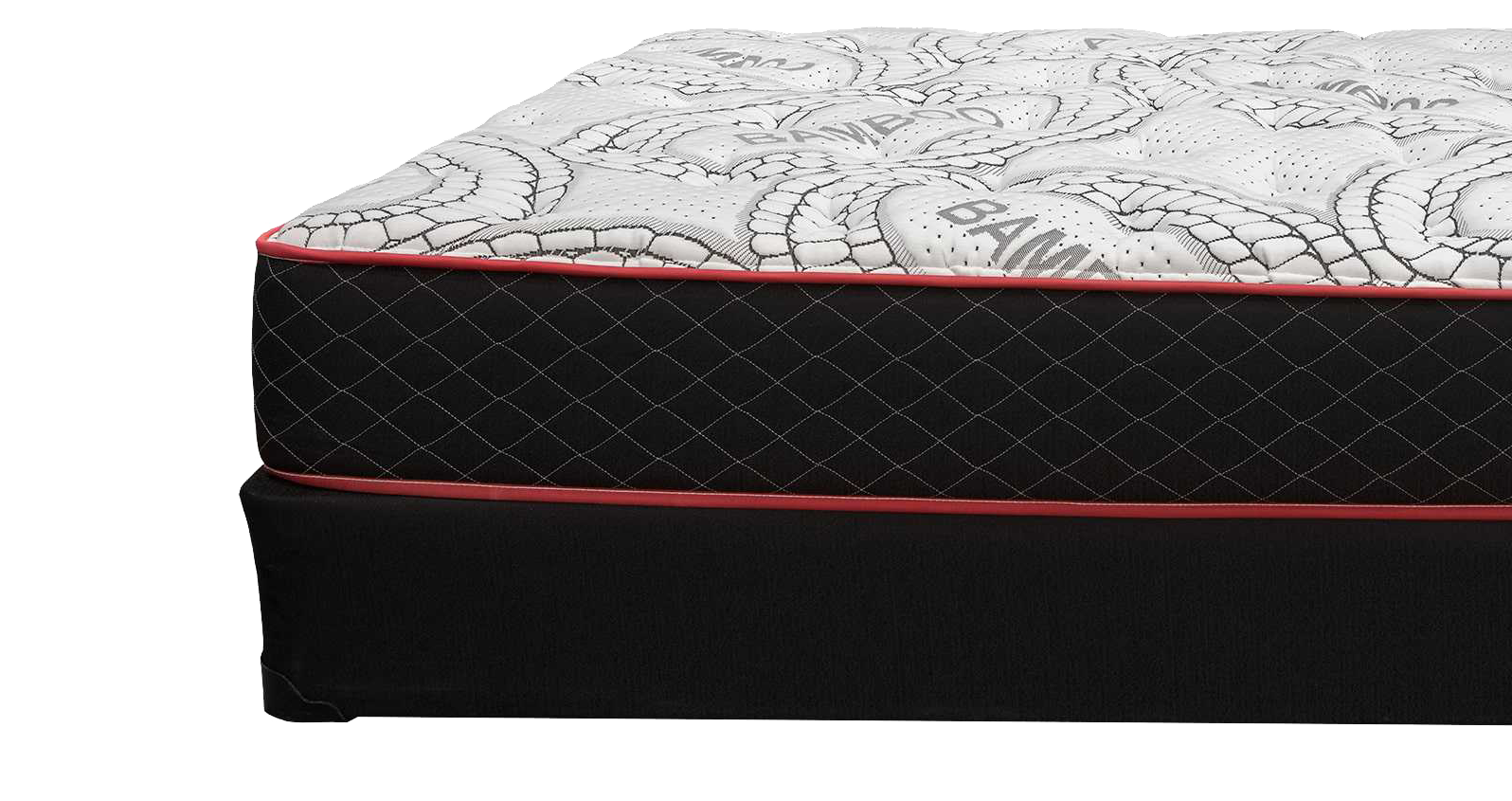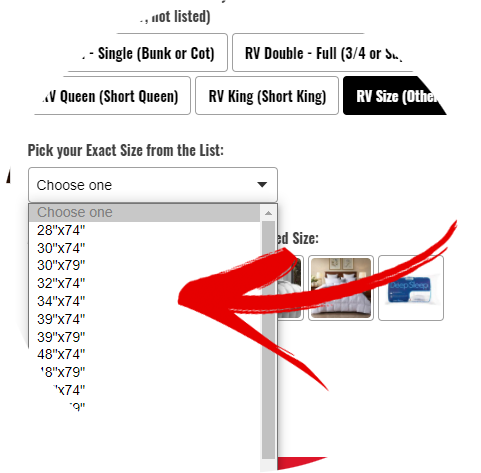 Need a Custom Size not listed?

Once you click on any one of our mattresses, you can click "RV Size (Other not Listed)" and choose from a huge variety of custom sizes.

The base price is listed and the additional cost for your particular custom size is also shown.

You can also drop us a quick line with your specific request and we will get back to you ASAP.